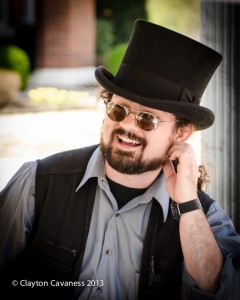 Experience the comedy magic of Cedric "The OTHER Entertainer". Delighting children ages 4-104 with a magically theatrical experience, customized to your event. It's the biggest little magic show you can fit in your living room (minus the tigers of course, yikes!)
Be amazed and amused by the mystifying magnificence of this true professional. Cedric is completely self contained and provides everything he will need, leaving you free to enjoy your guests and your party. He can even bring a beautiful backdrop, that adds to the stage like experience and ambiance, and can be used to take pictures after the show. Cedric will create magical memories for you and your guests with balloon creations and face painting that fit the theme of your event. You will even receive a custom colossal balloon sculpture centerpiece.
Let Cedric help you make your next party a memorable experience you and your guests will talk about for years to come. Cedric "The OTHER Entertainer" is perfect for events such as birthdays, holiday parties, daycares, company picnics, weddings, or anywhere you want to create magical, memorable moments.